It is possible – and highly desirable – for the business community to have an ethos of social responsibility, in addition to profit motivation. The mission of Vermont Businesses for Social Responsibility (VBSR), a statewide, nonprofit business association, is "to foster a business ethic in Vermont that recognizes the opportunity and responsibility of the business community to set a high standard" for protecting the natural, human, and economic environments of the state.

Members of VBSR represent a wide array of interests and sectors throughout the state – accounting, agriculture, computers, conservation, education, energy services, food service, health care, hotels and hospitality, media, manufacturing, printing, transportation, and so on. VBSR has four defined "impact areas:" education, networking, public policy and the economy. Within these areas, VBSR provides resources and information, initiates changes in public policy, and strengthens connections between businesses and businesspeople.
Specifically in the arena of public policy, VBSR has been making important contributions toward economic vitality and sustainability for over 20 years. As far back as 1995, VBSR helped pass legislation that created the Vermont Sustainable Jobs Fund. Livable Jobs legislation, which VBSR help to advocate for in 2008, "directed the State to annually compute the Basic Needs Budget," a crucial aspect of governance in Vermont. In 2009, VBSR "advocated for the creation of the Vermont 'Farm to Plate' Investment Program," which seeks to "increase economic development and jobs in the farm and food sector and improve access to healthy local food for all Vermonters."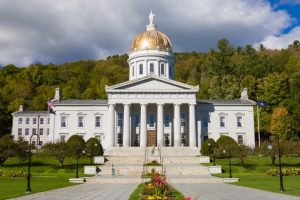 In 2010, the Vermont legislature passed the groundbreaking VBSR-supported Vermont Benefit Corporations legislation, making Vermont the second state in the Union (after Maryland) to create "a new class of corporations dedicated to creating public benefits as well as shareholder value. The new form of incorporation requires a company to appoint independent directors to report annually on their performance against social goals stipulated in their articles of incorporation. Importantly, qualified shareholders can sue a for-benefit corporation for failing to produce those benefits. Conversely, actions taken by for-benefit corporate officers to create or uphold a public benefit cannot be construed as violating their fiduciary responsibilities to shareholders. State lawmakers in Vermont note that directors of such companies would have better legal standing to resist takeover offers on the grounds that they might not support their social obligations."
These so-called "B Corporations" or "B Corps" today number more than 2,100 in 50 countries; they represent over 130 industries redefining business success. Some of Vermont B Corps include Seventh Generation, which manufactures non-toxic household cleaning products, and King Arthur Flour Company, "a 100 percent employee-owned maker of flour."
Do you own or are you a top executive of a business? Do you share VSBR's mission and goals? Do you have a like-minded organization in your community where businesses share an ethos of social responsibility? An organization such as VSBR provides a vital means for businesses and business leaders to work toward common goals on behalf of their businesses, their customers and their communities. Business owners and leaders have it within their power to positively affect social change. In our current political environment, productively "marrying" business's traditional goals with social responsibility and government action would seem like a no-brainer to bring about great benefits for our society.