Barbara Harris was a force of nature! (photo here) She crossed to the other side, at age 89, on Friday the 13th of March 2020. This post will be more personal than usual. I had the privilege to know Barbara for 30 years, and here I want to share some memories that one probably cannot find in too many memoirs or obituaries!
Barbara was elected Suffragan Bishop of the Episcopal Diocese of Massachusetts on September 24, 1988, at the Cathedral Church of St. Paul in Boston.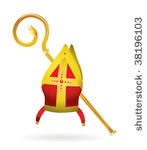 I had heard of Barbara before the nomination process, having been a subscriber to The Witness, which she published, and was thrilled that "my" diocese had taken the courageous step of electing the first woman bishop in the Anglican Communion. And she was African American, no less – even more courageous and prophetic!
In the Episcopal Church, after a bishop is elected, a consent process commences. It is only after s/he receives at least 50% plus one of consents from the diocesan bishops as well as a majority from the standing committees of the American (and related) dioceses that s/he can then be consecrated. Barbara's election was so controversial that it was not at all certain that she would win the necessary votes; the last few consents came only 10 days before the consecration was to be held. I think I am grateful that I was not on the "inside track" of that whole nerve-wracking process. (I would be decades later as I served on the Bishop Discernment and Nominating Committee of the Episcopal Church in Vermont, which subsequently took another bold action.)
Finally, despite the many objections to Barbara's election (she was divorced, she'd only been a priest for 10 years, and she had not graduated from seminary), the consecration took place on Saturday, February 11, 1989. Even though Massachusetts was one of the largest Episcopal dioceses in the US, the vast numbers of attendees anticipated because of the ceremony's historic nature could not fit in any of its church buildings.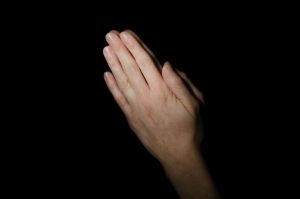 So, on that day, 8,000 people – including 1,200 in the procession – gathered for the three-hour service at the Hynes Auditorium in Boston. (I was there for the first two hours – what a scene!) We all held our collective breath as objections to Barbara's election were raised at the appointed time; they were deftly dealt with by Presiding Bishop Edmond Browning, and we moved on – into history.
Personal Memories
I think I first met Barbara close up when she came for a visitation at my church in Lexington, Mass. As we chatted after the service, she got a sly look in her eyes, tapped her pocket, said something about needing to go outside, and surreptitiously showed me her "vice" – the pack of cigarettes she always seemed to have with her. Smoking became a theme throughout her time as bishop. Her habit (which she did try to kick a few times) defies conventional wisdom: despite her smoking, several strokes, nearly being murdered (more on that below), death threats, and a host of other challenges throughout her life, she still managed to make it to within three months of her 90th birthday!
—————————-
At one point soon after Barbara's consecration, I visited her in the diocesan offices in Boston and offered to accompany her on a visitation. (It could be dangerous for a black woman in her late 50s to drive around alone at night.)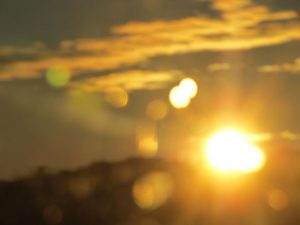 I was thrilled when she actually took me up on my offer! On Pentecost afternoon, we met in the western suburbs, and she drove us up to a parish on the North Shore in her "beamer" (BMW). We became a little lost as we drew closer, and I reached for a map in the pocket of the passenger's side door. She slapped my hand! She didn't believe in maps; what a riot! We did find the church and met the officials for the service. Despite suffering from a cold, she won folks over with her presence and sermon, as usual, and we soldiered on to a lovely reception afterwards at someone's home. Barbara never had me accompany her on another visitation (and I believe she ultimately had people driving her to various functions, which was a good decision), but  that outing is one of the fondest memories of my life.
——————————-
In early 1991, I left the Episcopal parish in Lexington, which had been "home" for 15 years, and began attending the Cathedral Church of St. Paul in downtown Boston. I changed parishes in part because I wanted to worship in a more racially diverse environment. Simultaneously (and unbeknownst to me at first), Diocesan Bishop David Johnson assigned Barbara to the Cathedral every other week.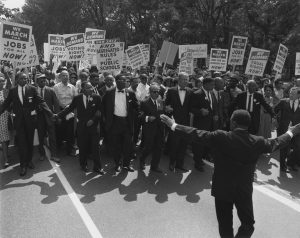 While this was unusual, I believe (normally, she would have been out "in the field," doing visitations throughout the diocese), and somewhat unfortunate – the Cathedral congregation was fairly small, which limited Barbara's prophetic reach – it was wonderful for me and many others who were drawn to Barbara and loved hearing her fabulous addresses on social justice issues.
I attended the Cathedral and sang in the choir for 12 years – which means that I not only heard Barbara preach every other week but also took Communion from her. She had a beautiful way of distributing the host: while looking into our eyes, she warmly clasped our hands as she placed the wafer into our palms. Communicants always felt a real, sincere (and holy) connection.
——————————-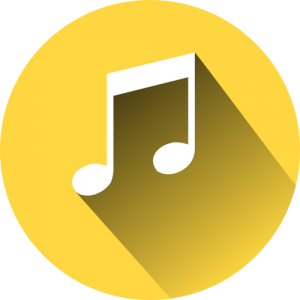 Our choir director at the Cathedral, Mark Engelhardt, had a relationship with the Cathedral in Albany, New York. This gave us in the choir the opportunity to travel there on several occasions, lead Evensong and have dinner with attendees. One of my most vivid memories of these visits was a conversation I had with Albany's former bishop, the late David Ball. The topic of Barbara came up, not surprisingly, and he admitted that he had voted against her election. He then revealed that he regretted his vote and now supported her. This was another of Barbara's hallmarks: she had a wonderful way of winning people over, and Bishop Ball was a case in point.
——————————-
One June in the 1990s, we in the Cathedral choir wanted to enjoy a party. Somehow it became possible to hold it at Barbara's house in Foxboro, Mass.! I borrowed a car and drove down early to help her set up. She was in the process of cooking fried chicken for us and also took a phone call from one of her many old friends (perhaps a woman who had been her childhood teacher!). Since it was also around the time of Barbara's June 12th birthday, someone brought a cake, and we celebrated with her – jokes and stories abounding. I stayed after the others left to help her clean up.
She sat down at her piano and started playing (by ear). I noticed that she had left room on the bench for me. Thrilled and humbled, I sat down beside her as she played "Come, thou fount of every blessing." Well, neither of us remembered the lyrics after the first few lines, but we continued "oooing" the hymn. She then played another piece for us, and I eventually took my leave, exchanging a special hug. Needless to say, this too is one of my best memories, and I think of this precious incident every time I sing "Come, thou fount."
——————————-
I have a number of fond memories of Barbara from coffee hour at the Cathedral during those 12 years. One day she told us about how she was almost murdered many years ago in Philadelphia. Wow… As I recall from her story, the man (who was in her personal circle) started strangling her. It was snowing outside, and she knew that if she left the house, it would all be over – he would kill her, and no one would ever know. Somehow she escaped, but the attack affected her voice for the rest of her life. A doctor in New York might have been able to help her, but she lived in Philadelphia and couldn't make the required appointments work. If I recall correctly, she never filed charges, feeling that it would be a "he said, she said" situation. I think it pained her that she could no longer sing like she had been able to – but, my goodness, she certainly used her speaking voice prophetically and sang her heart out anyway!
——————————-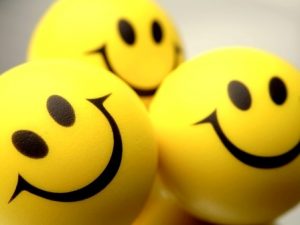 On another occasion, Barbara told a little story relayed to her by her beloved older sister Joey (Josephine). At work one day, a man passed by Joey's desk scratching himself. Joey asked him, innocently, "Are you going to the theater tonight?" Puzzled, the man said no. To which Joey replied, "Oh, I thought you were, since you were picking your seat!"
——————————-
In 1995, Barbara was turning 65 – with no intention of retiring. (Episcopal bishops are required to retire at age 72.) Some of us at the Cathedral thought it was a fine opportunity to celebrate Barbara's ministry. I was one of the primary organizers of a special time for honoring her during the Sunday service, and we had also contacted a number of people in advance to ask them to send greetings. At coffee hour, we presented Barbara with these cards and letters, which she read out to us. (We made it widely clear that this was not a retirement party!) A good time was had by all.
——————————-
One of the many advantages of being a Cathedral parishioner was that we were able to get tickets to the annual Martin Luther King Breakfast – at a table very close to the head table.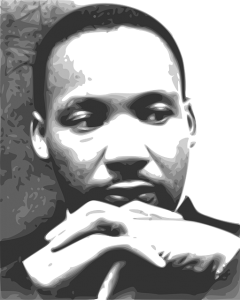 It was an honor to hear stirring speeches by luminaries such as Governor Bill Weld, Mayor Tom Menino, Senator Ted Kennedy and, of course, Barbara. When Barbara wasn't at the head table, she was at ours. The finale of the breakfast was always the rousing singing, hands held, of "We Shall Overcome." Several years running, I would arrive at my job the next morning and someone would say, "I saw you on TV yesterday!" Being "up front" put us near the local media – we routinely appeared on the evening newscasts. I was glad to be a small part of the witness to social justice efforts in Boston.
——————————-
A good friend of mine from Divinity School was married in November 2001. She was close to the late Rt. Rev. M. Thomas Shaw, then the Bishop of Massachusetts, and had also worked at the national church in New York for the Presiding Bishop. My friend's wedding, held at the Society of St. John the Evangelist in Cambridge, Mass., was celebrated by three bishops – the two men and Barbara. The reception then took place at Episcopal Divinity School nearby. Everyone had a wonderful time, including the bishop/monk, Tom Shaw, dancing with Barbara!
——————————-
A word needs to be said about the late David Johnson and Tom Shaw. David – a nice man but quite troubled – committed suicide on or about Friday, January 13, 1995, as he and his wife were preparing to start their retired life in the Midwest. Tom Shaw, who had only recently been elected bishop coadjutor (on the first ballot, an astounding sign of the Holy Spirit…), had to jump into the fray several months earlier than he had planned and pastor our church during and after the tragedy. As things unfolded, it emerged that David had had several extra-marital affairs with diocesan employees; it was a very hurtful time for our diocese, but Tom handled it masterfully. While Tom did have weaknesses as bishop (none of us is perfect…), I am eternally grateful that he was so good to Barbara, through her 2002 retirement and beyond. The same can be said for the current bishop, the Rt. Rev. Alan Gates.
——————————-
The last time I saw Barbara was at the September 28th consecration of our new bishop in Vermont, the Rt. Rev. Dr. Shannon MacVean-Brown. I was able to find Barbara before the service, chat with her briefly and give her a peck on the cheek. During the service, Bishop Shannon's stepfather, the Rev. Canon Ronald Spann, took the opportunity during his phenomenal sermon to acknowledge Barbara's presence among us and her importance to the church. Despite her advanced years, Barbara had been attending as many consecrations as possible of her "sister" bishops, other African American women.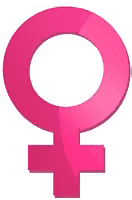 (In addition to Bishop Shannon, these include Newark Bishop Carlye J. Hughes; Colorado Bishop Kym Lucas; Indianapolis Bishop Jennifer Baskerville-Burrows [the first African American female diocesan bishop and Bishop Shannon's most recent bishop]; and Massachusetts Bishop Suffragan Gayle Harris, a long-time friend of Barbara's and her successor.) Barbara certainly started something remarkable, didn't she?!
Gracias
Thank you, dear reader, for indulging me in this tribute. Knowing Barbara and sharing (sacred) space with her for so long was one of the greatest privileges of my life. I am eternally grateful.
The paranormal evidence suggests that we do not necessarily "rest in peace" when we cross over, unless we need to for a spell. My hunch is that Barbara is enjoying beautiful (and joke-filled) reunions with her beloved mother, sister, friends and other relatives, and that she will go from strength to strength in her spiritual journey. Another tidbit from the paranormal evidence: we often keep sharing earthly lives with the same souls over the centuries, so my hopes are 1) that I meet Barbara again on the other side and/or 2) that many of us greet her soul in earthly form in other incarnations. At any rate, Barbara touched the lives of thousands, if not millions, by her grace, courage, perseverance, warmth, wit and stamina, and we are all the better for it.
Resources
Abrahamsen, Valerie A. Paranormal: A New Testament Scholar Looks at the Afterlife. Self-published 2015; printed by Shires Press, Manchester Center, VT.
Curry, Michael and Barbara Harris; edited by Fredrica Harris Thompsett. In Conversation. New York: Church Publishing, 2017.
Harris, Barbara C., with Kelly Brown Douglas. Hallelujah, Anyhow! A Memoir. New York: Church Publishing, 2018.
Miscellaneous Videos Featuring BCH
30th anniversary of Barbara's election (both funny and moving)
Presiding Bishop Katharine Jefferts Schori honors BCH in 2009
Links to Biographies and Obituaries
Boston Globe: Barbara C. Harris, first woman to serve as an Episcopal bishop, dies at 89
NPR: Barbara C. Harris, First Female Bishop In Anglican Communion, Dies At 89
Religion News Service: Bishop Barbara Harris, first woman bishop of Anglican Communion, dies at 89
Washington Post: Barbara C. Harris, first female bishop in Anglican Communion, dies at 89
New York Times: Barbara Harris, First Woman Ordained an Episcopal Bishop, Dies at 89
Afro: Barrier Breaking Bishop Dies at 89
Black Enterprise: Trailblazer Bishop Barbara C. Harris dies at 89
Diocese of Massachusetts: https://www.diomass.org/news/diocesan-news/barbara-c-harris-remembering-irrepressible-first-and-tireless-advocate-justice
https://edition.pagesuite.com/popovers/dynamic_article_popover.aspx?artguid=32d46cce-63c7-4e73-8412-5fc080936c0e&appid=1165