November 26, 2016, has been designated "Small Business Saturday." This is a good time, then, to contemplate an area where both conservatives and liberals/progressives can probably agree: small business is extremely important to the US economy. How to support small business, however, is often a sticking point. While conservatives might argue that the "government needs to get out of the way" in order to provide the best support to small business, we should consider Robert Reich's arguments about this in Saving Capitalism.
"There can be no 'free market' without government. . . Civilization . . . is defined by rules; rules create markets, and governments generate the rules. . . . A market – any market – requires that government make and enforce the rules of the game. In most modern democracies, such rules emanate from legislatures, administrative agencies, and courts. Government doesn't 'intrude' on the 'free market.' It creates the market." (pages 4-5)
I would challenge conservatives to rebut this basic argument.
In the meantime, let us move on and examine how lawmakers on the left are attempting to support small business. Two examples of senators who submit pro-business legislation include Massachusetts Sen. Elizabeth Warren and former Democratic presidential candidate and Vermont Sen. Bernie Sanders.
We also now need to take a look at the ways in which Hillary Clinton pledged to support small business. Her platform on small business was outlined for months on her campaign's website.
As president, Hillary would have made it easier to start and grow a small business in America by:
Unlocking access to capital. We need to give small businesses—including women- and minority-owned small businesses—access to the financing they need to build, grow, and hire. Hillary proposed working to

boost small-business lending

by easing burdens for community banks and credit unions. Her plan will also have allowed entrepreneurs to defer student-loan payments with no interest while they get their ventures off the ground.
Cutting red tape to streamline the process of starting a small business. It shouldn't take longer to start a small business in the United States than it does in Canada or Denmark. Hillary's plan would have offered state and local governments

new federal incentives

to cut red tape and streamline unnecessary licensing to make it less costly to start a small business.
Providing tax relief and simplification for small businesses. America's smallest businesses—those with one to five employees—spend 150 hours and $1,100 per employee making sure they comply with federal tax laws. That's more than 20 times higher than the average for larger firms. Hillary proposed creating a

new standard deduction

for small businesses—like the one available to individual filers. She suggested simplifying the rules so small businesses can track and file their taxes as easily as filling out a checkbook or printing a bank statement. And her plan would have quadrupled the start-up tax deduction to significantly lower the cost of starting a business.
Incentivize health care benefits for small businesses and their employees. Hillary proposed

expanding the health care tax credit

for small employers with up to 50 employees through the Affordable Care Act. And she would have simplified complex phase-out and eligibility rules to make it easier for many more small businesses to get the credit and cover their workers.
Opening new markets. Every small business across America should be able to enter new markets—whether those markets are across town or across the world. We should invest in the roads, bridges, ports, and airports that make it easier for small businesses to reach new customers, and

encourage innovations

that unlock new markers for small businesses.
Making sure small businesses get paid—not stiffed. Hillary believed it is outrageous when big businesses like Donald Trump's build their fortunes by repeatedly stiffing the small businesses that do work for them. Her plan proposed stopping large companies from using expensive litigation hurdles to deny small businesses payment for services, and she would have given small businesses

recourse

to take on predatory behavior.
Supporting small-business owners and entrepreneurs. Hillary's plan proposed working to provide

incubators, mentoring, and training

to 50,000 entrepreneurs and small-business owners in underserved communities across the country.
Make the federal government more responsive to small business. Hillary wanted to push the federal agencies to

make government more user-friendly

, guaranteeing a 24-hour response time to small businesses with questions about federal regulations and access to capital programs.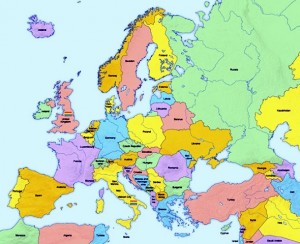 As Steven Hill points out in Europe's Promise, small and medium-sized businesses, which are more numerous in Europe than in the US, "have been able to keep pace with the profitability of large companies by being smart and efficient, light on their feet, and technologically advanced. They pool their resources and talents in larger networks . . . to gain the advantages of economies of scale without sacrificing the innovativeness and flexibility of smaller-scale operations." (page 45) Furthermore, in Europe there exist highly successful "close government-industry partnerships and taxpayer-supported 'national champions' in key industrial sectors." (page 46) Similarly, Europe finances massive infrastructure projects through "strategic use of public-private partnerships." (page 49)
This successful model throughout Europe, with its extensive social safety net, is at the same time one of robust small and medium-size businesses. These other countries – our peer nations – are not "socialist:" they have free market economies (capitalism) just like we have. Europe as a bloc is far from unproductive, as Americans have often wrongly believed. We need to banish our prejudices against Europe and other advanced nations for the sake of our country.
Clinton's, Warren's, Sanders' and others' initiatives mirror many found in those nations. Could many of these appeal to the Republican majority, for the sake of the country? If enacted, these initiatives could go a long way toward making small business success a reality in the US. I challenge the Trump Administration and the GOP to strengthen small businesses in these and other ways.
Resources
Hill, Steven. Europe's Promise: Why the European Way is the Best Hope in an Insecure Age. Berkeley and Los Angeles, CA: University of California Press, 2010.
Reich, Robert B. Saving Capitalism: For the Many, Not the Few. New York: Vintage Books, 2015.