Since the election, the pundits who favor the left have been wringing their hands about who the "real" leader of the Democratic Party is. No one is emerging as the person who should run for President in 2020 – OMG! The most charismatic figure on the left may well be Bernie Sanders – but he's an Independent! Help – what do we do?!
My question is, why should there be any single leader right now anyway? Obviously there is great incentive to defeat Trump in the next presidential election (if Trump lasts the full four years, that is). But that does not necessarily mean that one and only one political figure should necessarily be sought at this point in time by liberals and progressives.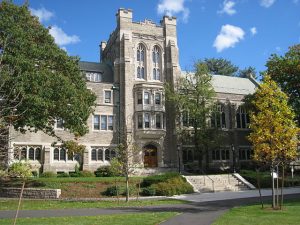 My favorite professor in Divinity School, the late Dieter Georgi, grew up in Germany under Hitler. Dieter knew the danger of putting too much trust in a single charismatic leader. Dieter as a brilliant New Testament scholar looked instead to the wisdom of the early Christians: in religious terms, they revered and had faith in the Living God, but in human terms, that translated to their putting trust in community, in their fellow human beings. As many Americans are realizing, and actually demonstrating, in these tumultuous and frightening times of the Trump Administration, there is great strength in numbers and in solidarity with like-minded, courageous people.
Let's take a look, then, at some of the Democrats around the country who are already not only taking leadership roles but also demonstrating courage; some of these could well emerge as candidates for President in 2020. (My preference, of course, as I noted earlier, would be for the country to move toward a multi-party system and coalition government, like most of our sister nations have, but in the absence of such a radical change, lifting up leaders within the Democratic Party is the nearest alternative.)

Emily's List, the organization that helps pro-choice Democratic women get elected to public office, indicates that 9 of the 15 Emily's List women in the Senate are up for re-election in 2018. Let's start with them, in alphabetical order.
Emily's List also noted a new crop of female US Senators around the country:
These women join Senator Patty Murray of Washington as female officials supported by Emily's List.
In addition, eight new pro-choice Democratic women were elected to the House of Representatives in 2016, some of whom have truly shattered long-time glass ceilings: Val Demings (FL); Lisa Blunt Rochester (DE), the first woman and person of color to represent Delaware in any capacity in Congress; Stephanie Murphy (FL), the first Vietnamese American woman elected to Congress; Pramila Jayapal (WA), the first Indian American woman ever elected to the House; Colleen Hanabusa (HI); Carol Shea-Porter (NH); Jacky Rosen (NV); and Nanette Barragán (CA). (Also in the House, as we all know, is Nancy Pelosi of California, the Minority Leader.) It is extremely important for progressives to support these new members of Congress in their work; we want them to succeed, to continue to win their elections, to have their voices heard, and to be in positions to take major leadership roles in the years ahead.
Happily, there are also a number of good men in leadership roles on the Democratic side:
The names I have mentioned are not meant to constitute an exhaustive listing of progressive leaders but more an attempt to show that, at this point in time, the Democrats do not necessarily need one leader to "show the way." As I hope is obvious, there are already strong leaders in office, women and men throughout the country who are willing and able to serve, take risks, make sacrifices, and put forth legislation that benefits their fellow citizens. We can thank them for believing that being in politics is a noble calling, not merely a locus for their own ambitions.
As the saying goes, "God willing and the creek don't rise," one or more leaders will emerge to represent progressives – whether from this group or from somewhere else – in time for the 2020 Presidential election. In the meantime, we can be grateful for the service of these representatives, senators and other public servants around the country and support them in their work on our behalf.