Most of us, one might hazard to guess, try to avoid crises; our lives are crazy, complicated and chaotic enough. We in the West crave moments of serenity, sanity and normalcy. Not so our current President, Donald J. Trump. Here we will not only show ways in which he creates false crises and then rides in on his white horse as the hero to supposedly solve them, but we will examine why he does this – because the "why" is very important to all of us and to the health of our country.
Since the advent of his term in the highest office in the land, Trump has arguably created one kind of crisis or other in the following areas then claimed to have solved them:
There is a great deal of hand-wringing and consternation among pundits, journalists, commentators, and the general public as to why Trump behaves like this, over and over again. What might be the political strategy? Why does Trump act in ways that seem to be against his own best interests? Why is he taking such huge risks on the national and international scene?
Yes, Trump might feel that he is playing to his base and perhaps fooling some people, which is a major rationale, and another is that creating crises distracts from his problems with the Mueller investigation. But the basic answer actually boils down to Trump's personality. As we have noted before, Trump is almost certainly a psychopath (or sociopath, depending on the terminology). According to experts, creating crises and claiming to be God or a hero is classic behavior of people with this personality disorder:
They cannot stand to be bored

. They always need to have stimulation (Number 3 on Dr. Hare's "Psychopath's Check List, Revised").
They are

impulsive

(Number 14 on Dr. Hare's list).
They are

pathological liars

(Number 4 on Dr. Hare's list). A "sociopath may believe he can lie convincingly, even when caught red-handed.

Cut off from real emotions

, he assumes others lack emotional intuition, that others will believe what he tells them, not what they sense and feel and know in their hearts" (Ablow, 90, italics in original).
They have

no shame or conscience

; they can speak out both sides of their mouths without blinking. "No empathy. No feelings of guilt. . . the hallmarks of sociopathy" (Ablow, 141). They exhibit

callousness and lack of empathy

(Number 8 on Dr. Hare's list). They do not truly care about anyone except themselves, which is why Trump can use children and minorities as pawns without batting an eye.
The "sociopath believes there is no God. . .

he is his own savior

" (Ablow, 142).
They have

grandiose self worth

(Number 2 on Dr. Hare's list).
They

rarely accept responsibility

for their own actions (Number 16 on Dr. Hare's list); Trump almost never apologizes – and is proud of that fact. Therefore, in his mind, he has no need to apologize for creating crises that result in enormous damage…
We have no further to look to answer the "why" question than Trump's basic personality. There is no strategy (apart from self-preservation and self-aggrandizement), there are no underlying values or beliefs, there is no analysis or logic. It is extremely important to understand this, not only because Trump has so much power but because he is far from the only person like this in our midst. As experts on psychopathy warn, they are "among us" and "next door." Trump is an excellent – and truly frightening – example of what happens when people with this type of personality are given a tremendous amount of power and influence and few others in power stand up to them.
What do we do with this? How do those of us who realize how dangerous Trump is cope with his constant aberrant behavior?
Bandy and Schwartz in their Politico article offer some excellent advice: "First, don't use logic or rationality to try to understand or counter Trump's statements and behaviors. He is driven not by reason but by negative emotions that are infectious. Trump thrives on creating fear and sowing confusion. He lies without guilt. Don't match his emotion with your own. Second, be clearer than ever about your core values, beliefs and principles, and rely on them for guidance and comfort, especially when you are feeling most triggered and fearful. Challenge every day the natural inclination to feel overwhelmed, fatigued or numb in the face of Trump's behavior. This is what people with his psychological inclinations count on. Trump is aware that whatever he says repeatedly – no matter how outrageous – many people are more likely to believe, or at least to stop resisting. Lastly, recognize that fear is your enemy."
Let us also remind ourselves of the words of a truly great President – Franklin Delano Roosevelt.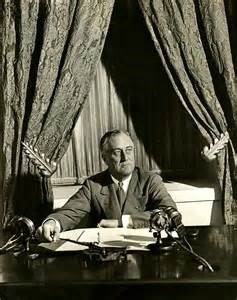 In the words of his first Inaugural Address in 1933, during one of the direst times in our nation's history, FDR memorably declared, "the only thing we have to fear is…fear itself – nameless, unreasoning, unjustified terror which paralyzes needed efforts to convert retreat into advance." We in the US in 2018 absolutely cannot allow ourselves and our nation to be paralyzed or to retreat!
Resources
Ablow, Keith. Inside the Mind of Scott Peterson. New York: St. Martin's Paperbacks, 2005.
Hamblin, James. "Donald Trump: Sociopath?" The Atlantic, July 20, 2016.
Hare, Robert D. Without Conscience: The Disturbing World of the Psychopaths among Us. New York: Guilford, 1999.
Lee, Bandy X. and Tony Schwartz. "Inside the Mind of Donald Trump," Politico, July 27, 2018.
Stout, Martha. The Sociopath Next Door. New York: Broadway Books, 2005.